Most of you know me from Seeking Alpha, where I've been researching REITs for over a decade.
However, before Seeking Alpha you may not know that I spent over 25 years of my life creating value "from the ground up".
That's right, I became a real estate developer in the early '90s where I began to construct retail stores for companies like Advance Auto (AAP), O'Reilly (ORLY), Blockbuster Video, Hollywood Video, Payless ShoeSource, CVS (CVS), and Walgreens (WBA).
One of the companies I built for was called Econo Lube N' Tune, a west coast-based chain that was expanding its footprint using the franchise model.
Econo was privately held with no credit rating and one reason that I decided to build a few stores was because Realty Income (O) was leasing stores to them too.
Always Stick With

Generic Real Estate
One day I decided to visit one of my newest Econo stores in Anderson SC. I was proud of the property because it was located along a very high traffic corridor, and I had paid something like $525,000 for .5 acres ($1.050 million per acres).
I recall driving into the parking lot expecting to see employees staging a grand opening, but instead to my surprise, the workers were removing the fixtures and signage. When I asked someone what was going on, they told me that Econo Lube had just filed for bankruptcy.
As you can imagine, I was shocked, so I immediately called the CEO and he confirmed the BK rumor.
I had just invested around $1.2 million to construct a new store in which I had personally guaranteed a loan of around $700,000 with zero rent coming in. In addition, I was on the hook for property taxes and insurance.
The next day I began to contact other car repair shops hoping to get a new tenant, recognizing that the property that I just built wasn't a generic box whatsoever. It had pits in the ground, specialty doors, and very little HVAC. In addition, the building was configured as an L-shaped structure, purposely designed as a quick oil service shop.
Months went by and my banker was getting testy. He allowed me to pay interest only, but he was starting to demand that I make principal payments on the loan.
Finally, around ten months later, I was able to negotiate a short-sell contract with a similar chain in which I took a $500,000 haircut. My original investment of $1.2 million was now worth $700,000.
My sole equity partner in the deal allowed me to transfer his $300,000 in equity to another deal, and I took a $200,000 loss. And of course, the bank was paid off in full.
After that fiasco with Econo Lube I decided it was time to stick with fungible boxes, so I doubled down with projects with Advance Auto, Sherwin Williams, and Aaron Rents.
And that's also why I won't invest in theaters today and REITs like EPR Properties (EPR).
I know firsthand the agony of trying to repurpose a property that has limited uses. I was lucky to walk away from my Econo Lube lesson with a few scratches (the $200k net operating loss came in handy years later) and I'm more cognizant of replacement value when it comes to investing in REITs.
Note: See my recent EPR article HERE.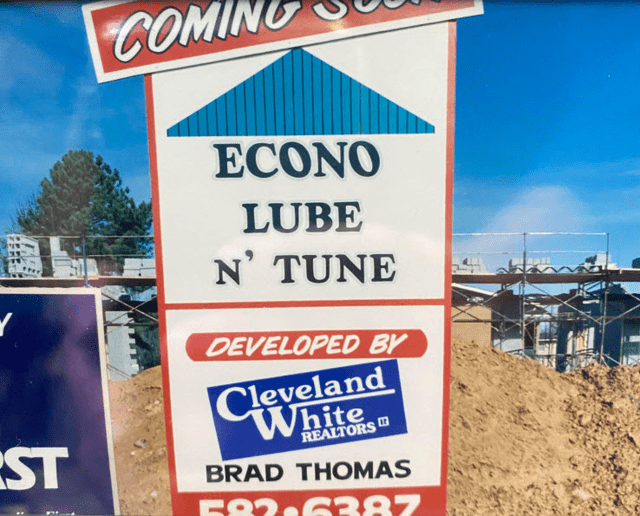 Agree Realty: The Fungible Box Landlord
Agree Realty (ADC) is an internally managed real estate investment trust that primarily specializes in acquiring and developing retail properties that are leased on a net-lease basis.
Their portfolio includes 1,908 retail properties that are located in 48 states and cover roughly 40 million square feet. Their portfolio of retail properties has a weighted average remaining lease term of around 8.8 years and is 99.7% leased as of the end of 2022.
ADC's leases to high quality tenants such as Walmart, Dollar General, Lowes, CVS, and Home Depot. 67.8% of their annualized base rent ("ABR") comes from tenants (or their parent company) that have investment grade credit ratings which is one of the highest in the net-lease space.
As a point of comparison, Realty Income and National Retail Properties (NNN) investment-grade tenant concentration is 41% and 18% respectively.
The retail sectors ADC's tenants operate in are largely e-commerce resistant with grocery stores, home improvement, auto service, dollar stores, and convenience stores making up their top 5 sectors.
In addition to their retail properties, ADC also has a ground lease portfolio that contributes 12.1% to their ABR as of the end of the first quarter.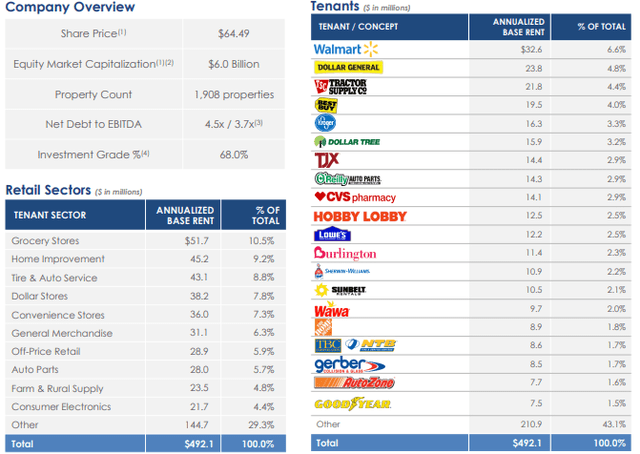 Agree Realty has a BBB credit rating and a strong balance sheet with a proforma net debt to EBITDA of 3.7x, a long-term debt to capital of 30.33% and a fixed charge coverage ratio of 5.1x.
Additionally, they have a weighted average term to maturity of 8 years and have no significant debt maturities until 2028. Plus, they have approximately $1.2 billion in total liquidity available to them.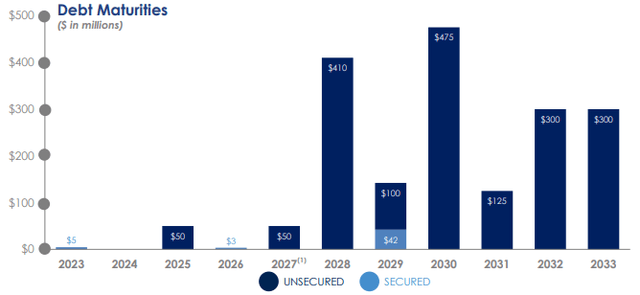 Until recently, Agree Realty paid a quarterly dividend which were paid for 107 consecutive quarters from their IPO in 1994 up until 2020. In 2021, ADC moved to a monthly dividend and has paid 28 consecutive monthly dividends since the transition.
They have a compound annual dividend growth rate of 6% and an average adjusted funds from operations payout ratio of 76% over the last 10 years.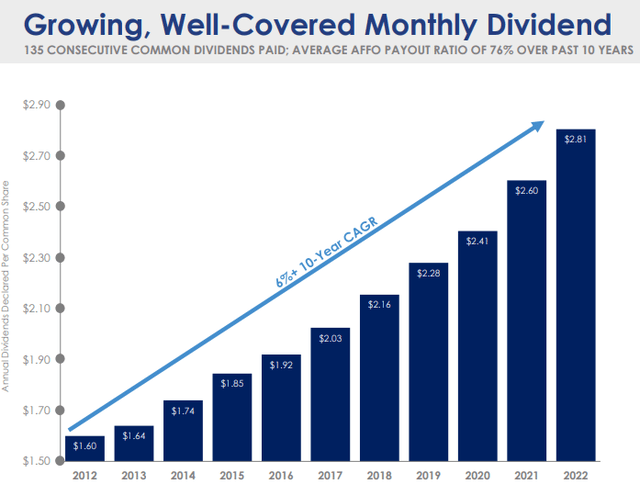 Agree Realty pays a 4.43% dividend yield that is well covered with an AFFO payout ratio of 73.24% as of the end of 2022. The stock is currently trading at a P/AFFO of 17.01x which compares favorably to their normal AFFO multiple of 17.76x.
This is a high-quality REIT that has been doing business since 1971 and has been publicly traded since 1994. They have an above-average AFFO growth rate of 5.76%, a high dividend yield, and a strong business model for continued growth. At iREIT, we rate ADC stock a BUY.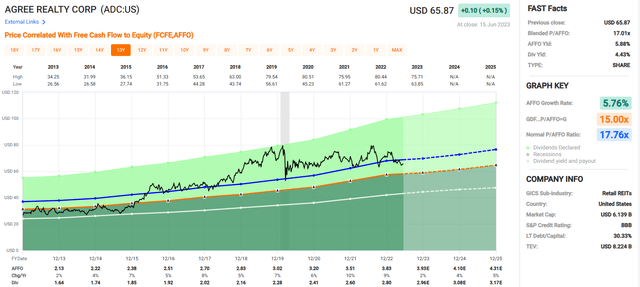 Stick with Strong Demographics
As I mentioned earlier, I was a developer for over 25 years before I landed on Seeking Alpha. Most of my projects were either net lease deals (I did over 100 projects across the southeast) or shopping centers.
I really like the shopping center model, especially if the property is anchored by a grocery store or necessity retailer. I've bought and sold properties from and to REITs and I even had aspirations of sponsoring my own REIT.
Most of my projects were in South Carolina, towns like Gaffney, Chester, Laurens, Walterboro, Union, Greer, Mauldin, Woodruff, Camden, Hartsville, and Spartanburg. I also branched out my home state into markets like Boone, NC; Denton, NC; and Cullman, AL.
During the 2000's when I was actively building shopping centers, I paid no attention to demographics. My theory was that if Wal-Mart was in the market, it would be good enough for me. Boy, was I wrong.
I remember buying a grocery anchored center in Denton, NC for around $1.5 million. The center was 100% leased at the time to Lowe's Food, CVS, and Family Dollar. I was hoping to expand the center and increase the net operating income so that I could put permanent debt on the property.
The leases were short term and I had limited time to put my plan into action. I knew CVS was doing a great business because they were paying me around $75,000 per year in percentage rent alone.
Months and months went by, and I wasn't successful getting Lowe's to sign a new lease (because it was contingent on getting an alcohol permit). Eventually CVS opted to relocate to a free-standing property and my cash flow fell by 30%.
Denton is a small town and by the time the Great Recession rolled around I decided to sell the property to an investor for less than $1 million. I took another hit of around $500,000 (net operating loss) and going forward I decided to always focus on major markets and avoid the small-town landlord game.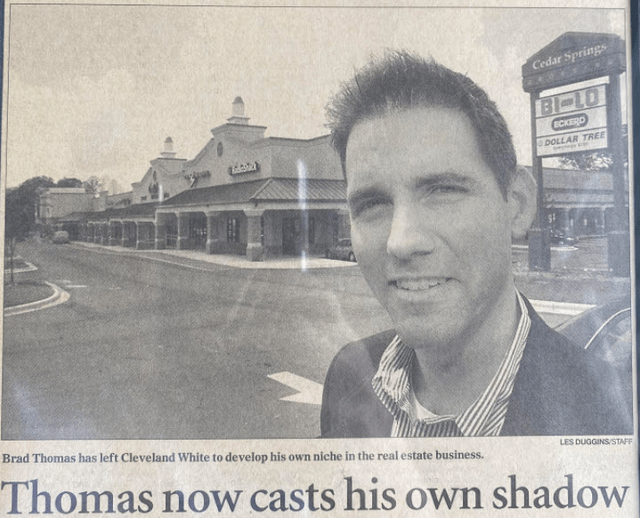 Federal Realty: A Wide Moat REIT
Federal Realty Investment Trust (FRT) is a shopping center REIT that owns, manages and redevelops retail and mixed-use properties that are primarily located in the Northeast and Mid-Atlantic regions along with a large presence in South Florida and California.
The majority of their shopping center properties are anchored by grocery stores and their mixed-use properties are normally centered around retail properties but also include residential, hotel, or office buildings. Their investment strategy involves investing in properties that are in first ring suburbs that are densely populated with affluent populations and high-barriers to entry for further development.
In total, their portfolio consists of 102 properties that covers approximately 26 million square feet and includes around 3,200 commercial tenants and 3,100 residential units. As of the end of 2022, FRT's properties were 94.5% leased with a 92.8% occupancy rate.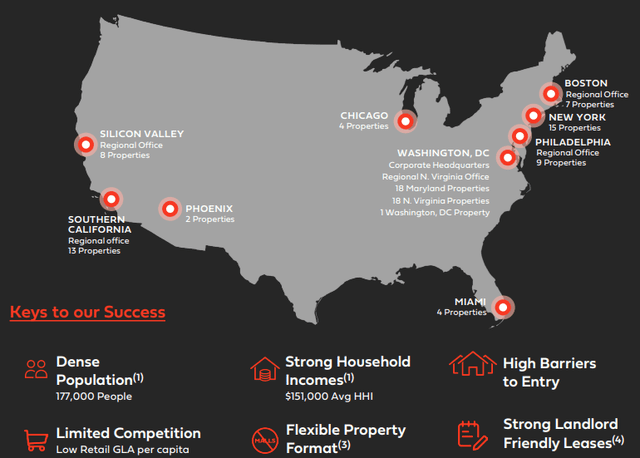 Federal Realty is one of the oldest REITs and has the longest track record of paying dividends in the REIT industry. They have paid dividends continuously since their formation in 1962 and have increased their dividend for 55 consecutive years at a compound annual growth rate of 7%.

Federal Realty pays a 4.55% dividend yield with an AFFO payout ratio of 91.86% as of the end of 2022. Before the pandemic in 2020, FRT's AFFO payout ratio typically came in around 75% to 85%. In 2020 the payout ratio jumped up to 123.46% but has come down in the subsequent years.
The payout ratio went from 123.46% in 2020 to 97.48% in 2021 and went from 97.48% to 91.86% in 2022. While the payout ratio in 2022 is somewhat elevated, FRT has shown the ability to improve on this metric since the pandemic and I expect they will get back to their historical levels within the next few years.

Federal Realty is investment-grade with a BBB+ credit rating from S&P Global and has reasonable debt metrics with a net debt to EBITDA of 6x, a fixed charge coverage ratio of 3.6x, and a long-term debt to capital ratio of 57.06%.
They have $100 million of cash on hand and $1.2 billion available to them under their revolving credit facility for $1.3 billion in total liquidity. Currently the stock is trading at a P/AFFO of 19.86x which is a significant discount to their normal AFFO multiple of 28.36x. At iREIT, we rate FRT stock a BUY.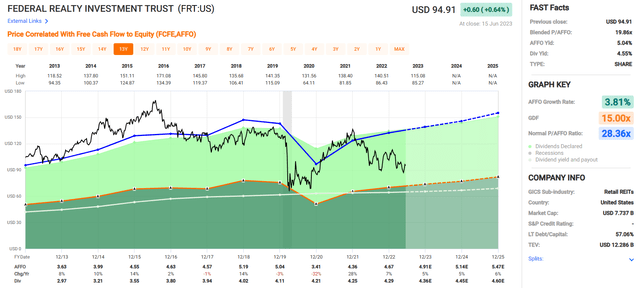 Own Trophy Assets
My final lesson learned article is regarding a warehouse that I once owned leased to Goodyear Tire (GT).
As I was expanding my real estate empire (in my early 40's) I decided to acquire a warehouse that was leased to Goodyear. The property served as a distribution center for the company's truck retread business and although the building had low ceiling heights, it was useful for Goodyear because they did not require high ceilings.
The original tenant was a company that built locks and although the building was old, it was perfect for Goodyear because it was cheap rent and close to their manufacturing facility.
Similar to the Denton, NC deal I just mentioned, I was hoping to extend the Goodyear lease (with rent bumps) and place a permanent loan on the property. That was around 2006 when I bought the building and guess what happened in 2008?
I ended up selling my interest in the property to one of my partners in order to avoid a massive write down. I drove by the property a few weeks ago in which I saw weeds deferred maintenance, and of course, Goodyear was no longer a tenant.
My lesson learned with the Goodyear building is to own irreplaceable real estate that will stand the test of time. I now have that with my next pick…
VICI Properties: Simply Irreplaceable
VICI Properties (VICI) is a triple-net lease REIT that specializes in experiential real estate that consists primarily of casinos. VICI owns some of the most iconic trophy properties of any REIT with properties such as the Venetian Resort, MGM Grand, and Caesars Palace Las Vegas.
In total, their portfolio includes 50 gaming properties that are located in 15 U.S. States and a providence in Canada and cover approximately 124 million square feet. Their gaming properties features around 60,000 hotel rooms, over 450 restaurants, nightclubs and bars, approximately 500 retail outlets, and 6.7 million square feet of convention space.
Additionally, VICI owns 4 championship golf courses and 34 acres of land next to the Las Vegas Strip that can be used for future development.

VICI is investment-grade with a BBB- credit rating from S&P Global. They have solid debt metrics including a leverage ratio of 5.9x, a long-term debt to capital ratio of 42.68%, and an interest coverage ratio of 3.1x.
Their debt is 82% unsecured, 99% fixed rate, and has a weighted average term to maturity of 6.6 years with no debt maturities until 2024.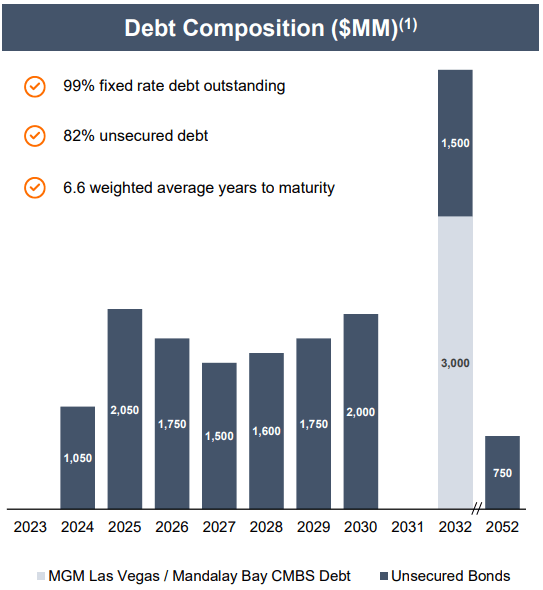 In its relatively short existence, VICI has delivered strong AFFO and dividend growth. Since 2019 they have had an average AFFO growth rate of 7.02% and an average dividend growth rate of 10.74%. Analysts expect AFFO per share to increase by 10% in 2023, and then 4% in the years 2024 and 2025, respectively.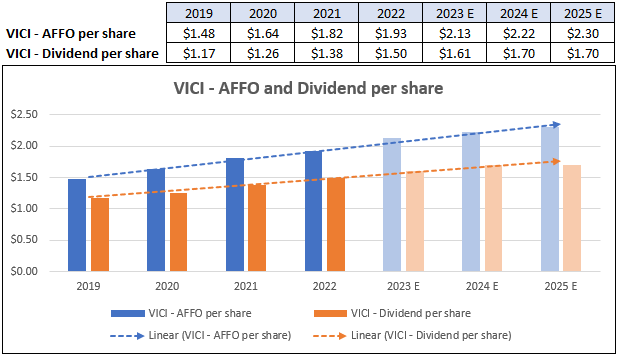 VICI pays a 4.79% dividend yield that is well covered with an AFFO payout ratio of 77.72% and currently trades at a P/AFFO of 16.10x, which is a slight discount to their normal AFFO multiple of 16.29x.
Since their inception, VICI has quickly established itself as one of the largest and fastest growing REITs in the triple-net space and has made numerous acquisitions recently to continue this trend. At iREIT, we rate VICI stock a BUY.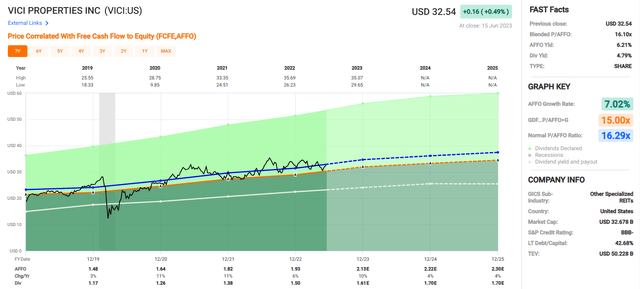 In Closing…
I hope you enjoyed my "lessons learned" article.
I really enjoy writing these types of articles and I hope you found this one both interesting and educational.
One of the unique advantages that I have as an investor and research analyst is that I have decades of experience in commercial real estate.
I've been down in the trenches, with tons of blood, sweat and tears…
And even a few battle scars to prove it (net operating losses).
I'm glad to be on the other side of it now, and my primary objective with articles like these is to steer you away from losses (like I experienced).
Let me know your thoughts and as always, thank you for the opportunity to be of service.
Happy SWAN Investing!
Author's note: Brad Thomas is a Wall Street writer, which means he's not always right with his predictions or recommendations. Since that also applies to his grammar, please excuse any typos you may find. Also, this article is free: Written and distributed only to assist in research while providing a forum for second-level thinking.