Every year, Wallpaper* searches for the coolest kitchens design ideas from the world's best specialist manufacturers. Here, we select the most impactful kitchen trends for 2024, from the must-have functional designs to sculptural forms that nod to art history. These contemporary kitchens blur the boundaries between a utilitarian approach and aesthetic splendour, with inventive new ways to cook, prep and host. 
Kitchen trends 2024: the Wallpaper* edit
---
Textured surfaces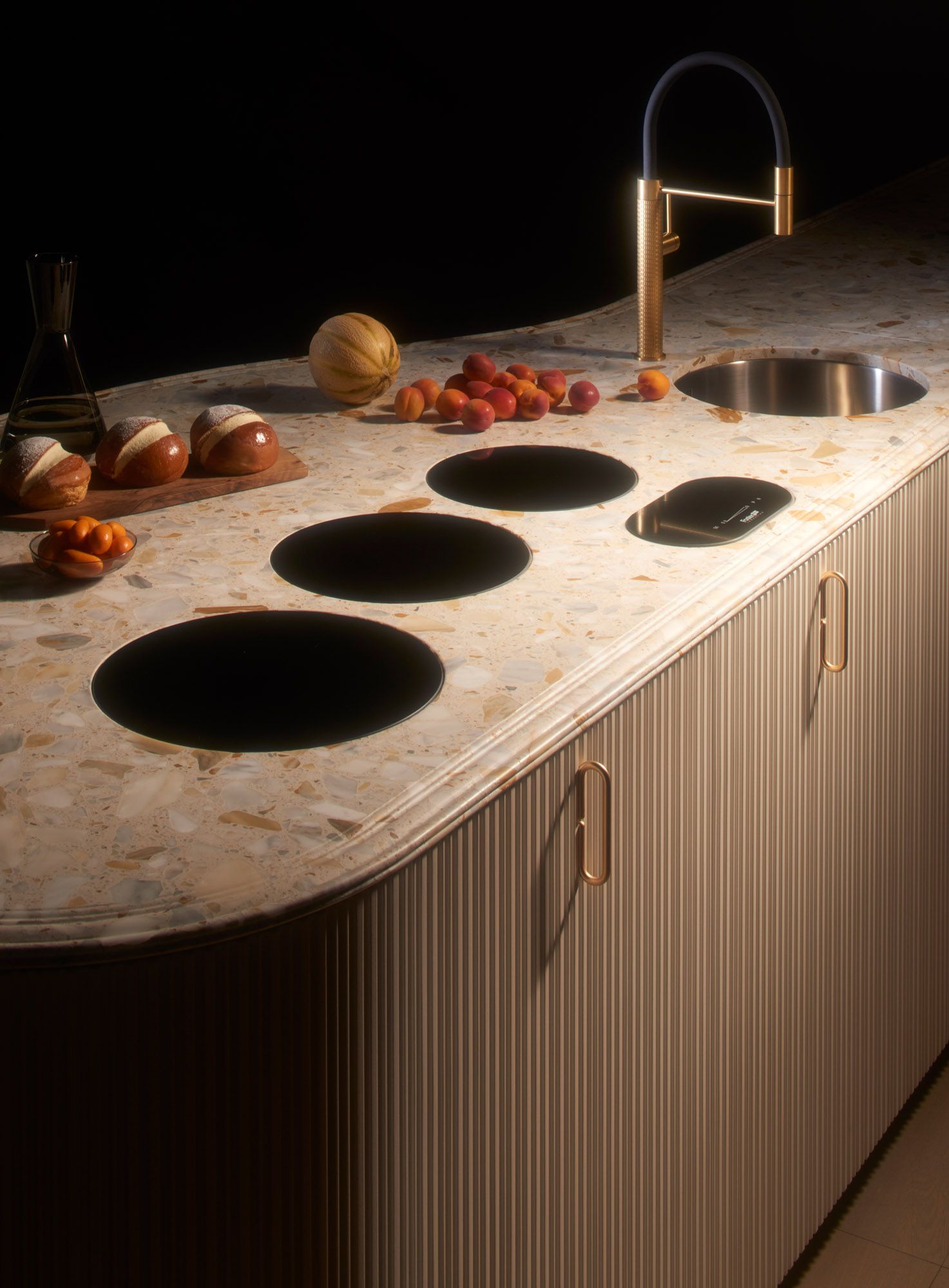 It's no longer the most minimalist marbles all the way, and the smoothest, most discreet surfaces are giving way to ridges, textures and three-dimensional motifs. Launched in 2022, the 'Tangram' kitchen by Garcia Cumini for Cesar combines curved and straight elements to give greater design flexibility. This year, it has been given a sleek update, with new features, including a drip-saving groove along the edge of the Bianco Apuano stone worktop, new handles and white lacquered cabinetry. 
Integrated, exposed shelving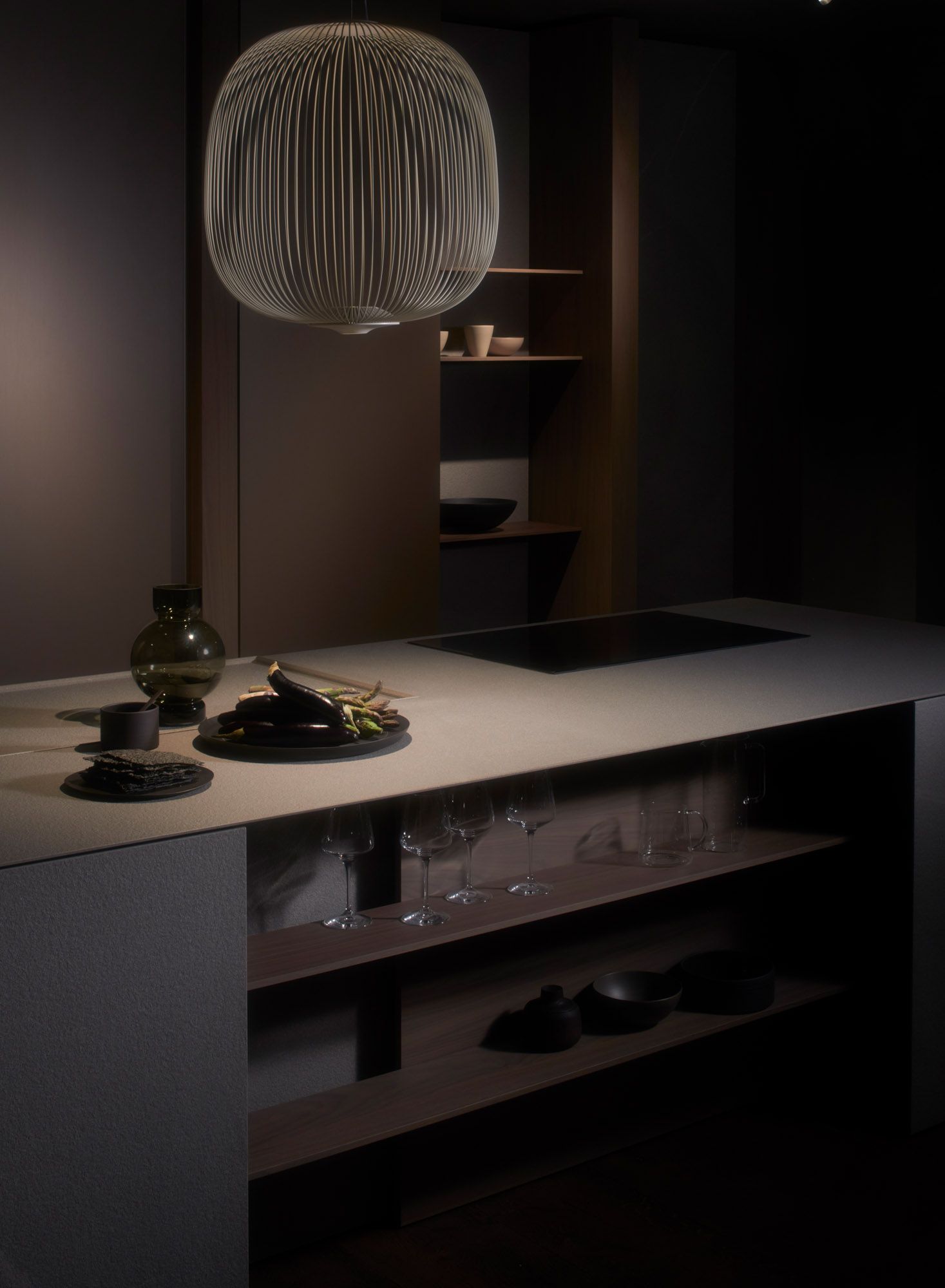 Even the most exclusive kitchens now focus on functionality, with additions such as integrated shelving that serves the double function of beautifully displaying decorative objects and keeping kitchen essentials nearby. The latest update of the 'Skill Gres' kitchen by Modulnova features an integrated shelving system in an elegant new offering of materials, including Piasentina Fiammato stone, lacquered metal and Noce Grigio laminate. Very thick vertical uprights and bookcase elements enrich the kitchen's linear composition
The latest offering from the Dada Engineered collection includes Vincent Van Duysen's 'Atelier' storage column, which can be adapted to suit the breadth of Molteni & C's kitchens. The fully customisable niches can be left open, their shelves exposed and easy to access, or concealed behind a choice of framed door designs and equipped with drawers to enhance their functionality. Available finishes include glass, ceramic, eco-skin and wood, and Van Duysen has also created a series of accessories that allow for the display of bottles and glasses. 
Multifunctional worktops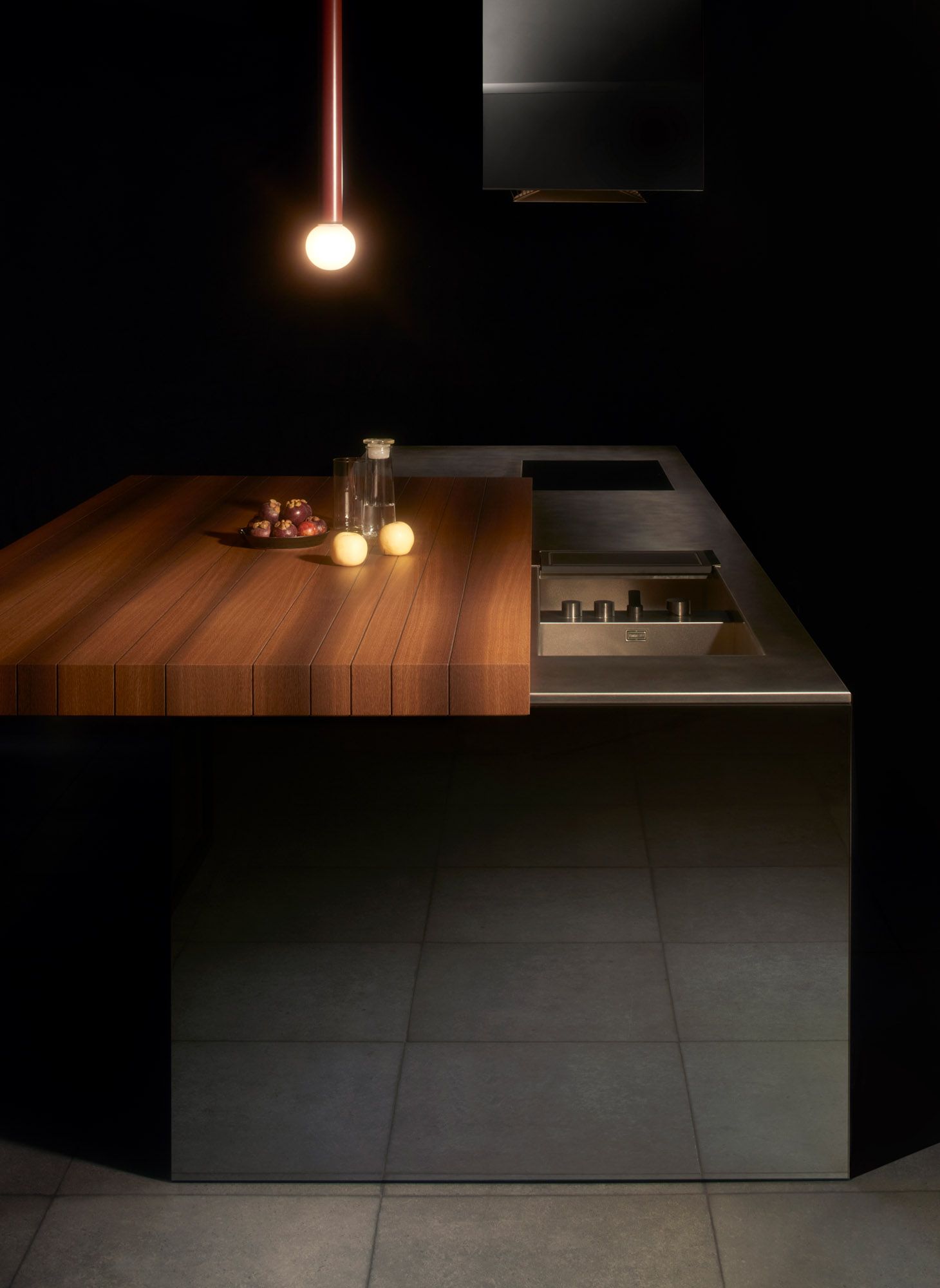 The most contemporary kitchens are all-in-one marvels, where you can prep, cook, entertain (and more) without leaving your island. Using different materials and discreet shapes to define each purpose, our favourite interpretation of this trend comes with moving options to enhance different function, or to hide them when not in use.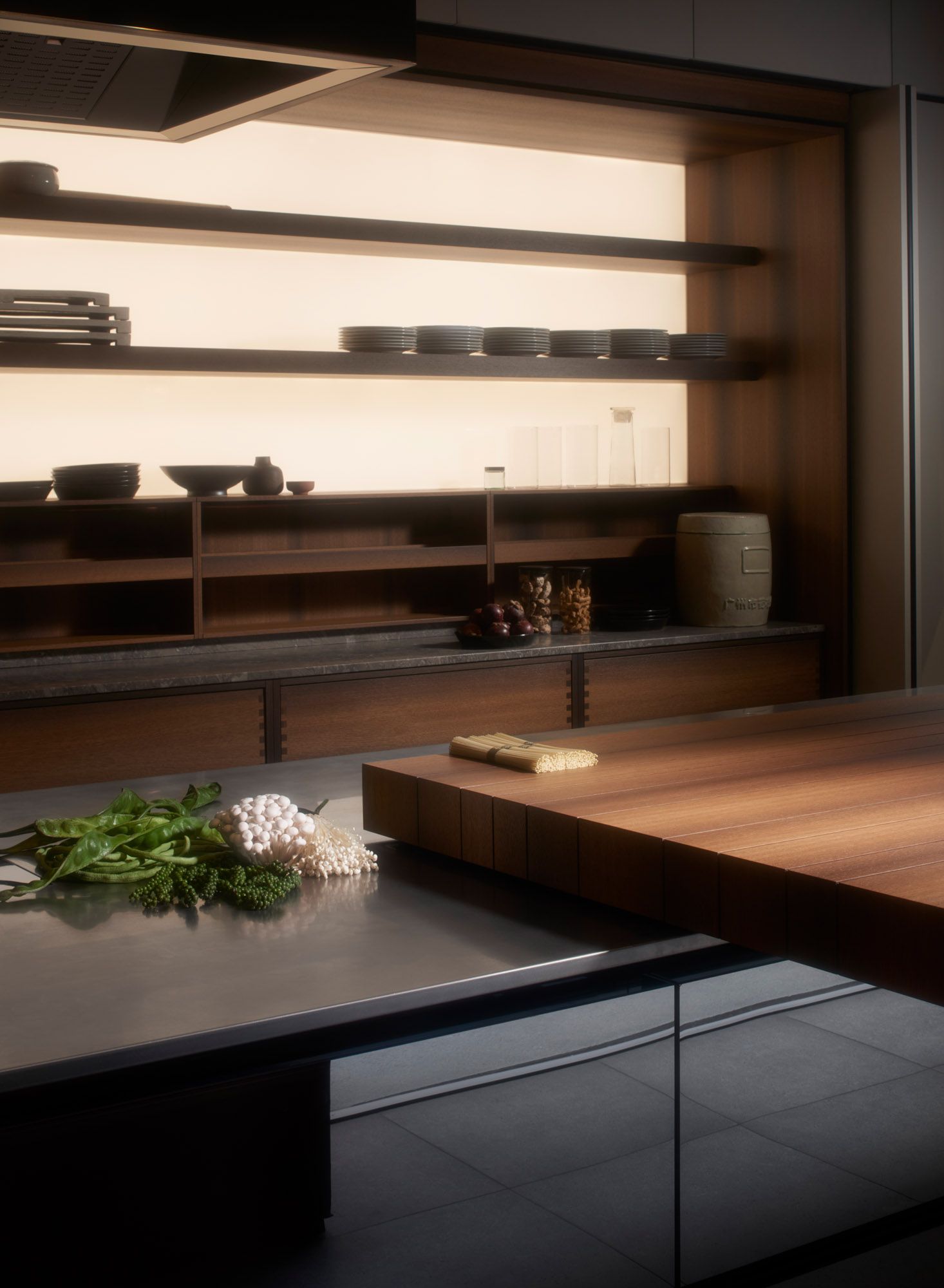 Twenty years separate the original 'Case 5.0' by Piero Lissoni for Boffi from its newest offering, which now comes with a worktop that can slide in three different directions, creating cantilevered areas for food prep or hiding sinks when not in use. Its updated 'Hide Pro' handle-free cabinet system allows for seamless design.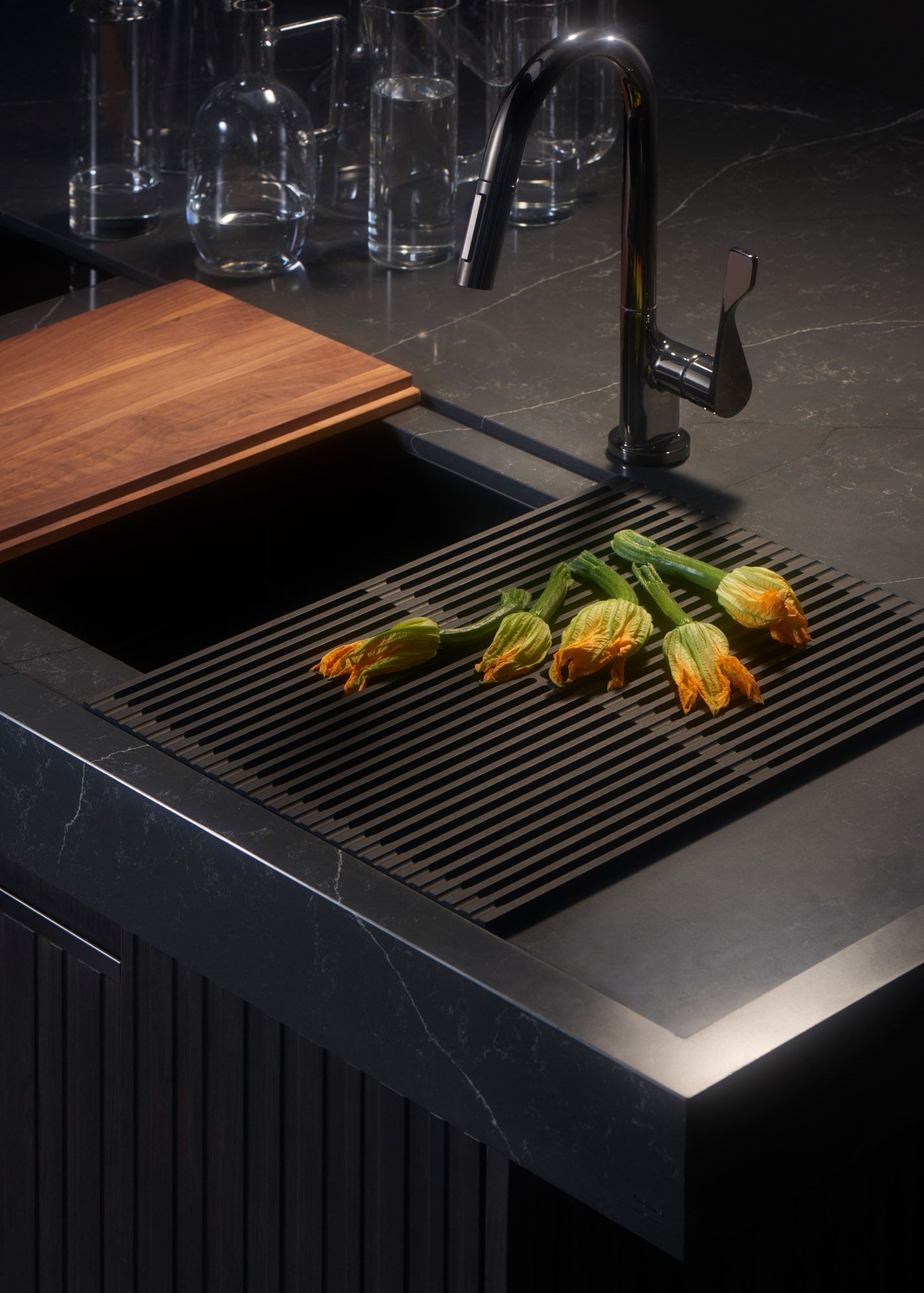 Meanwhile, driven by an ethos of minimising environmental impact, Arclinea has released an innovative new panel finish, g-cover (shown here on its Lignum et Lapis kitchen), made using recycled graphite powder, a byproduct of electrode production. G-cover enhances the durability of the kitchen, protecting it from light, impact and signs of ageing. 
Sculptural volumes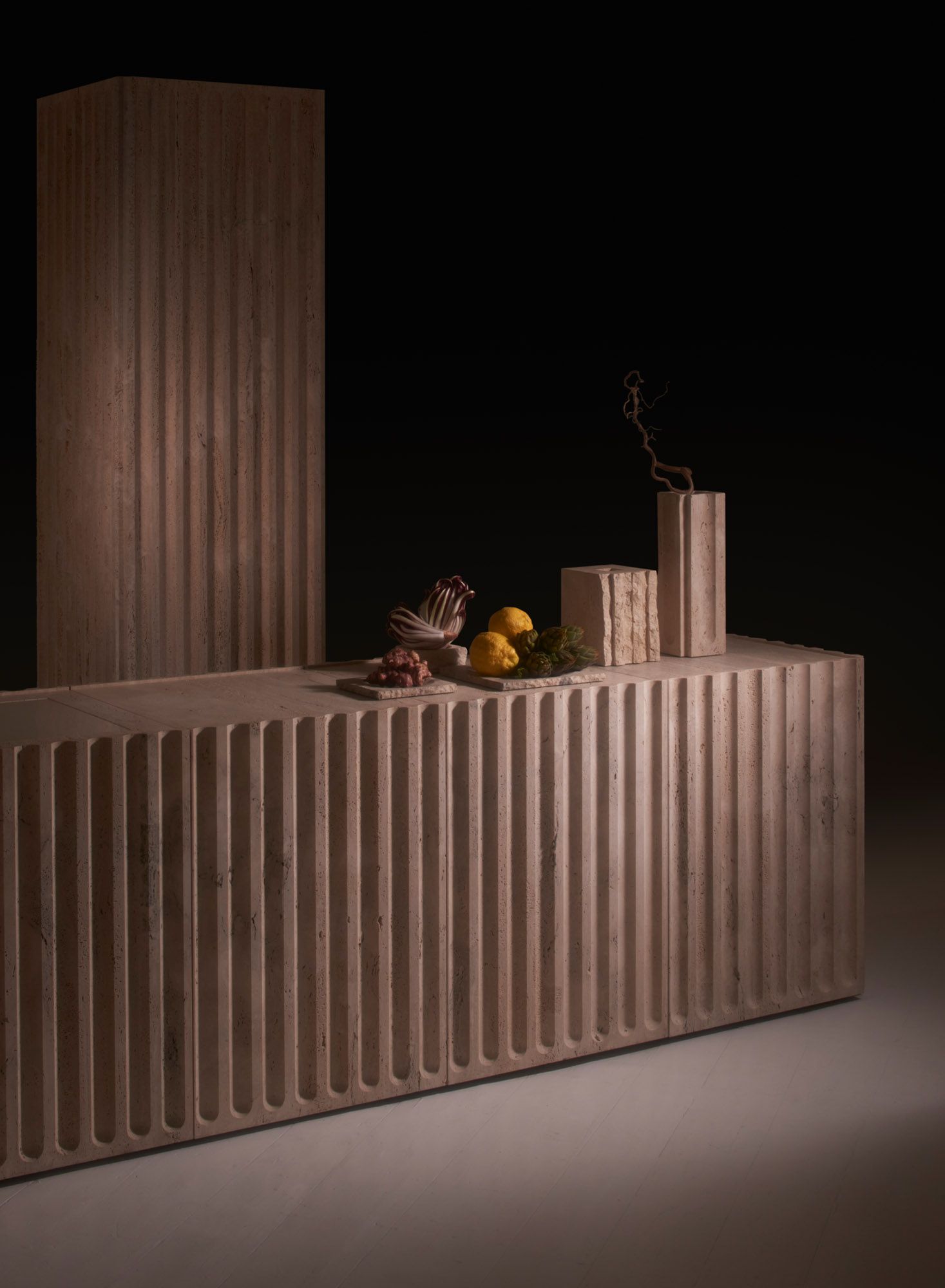 Making a statement with a quiet sense of elegance, these kitchens add a sense of timelessness to an otherwise ultra-functional space, with details that nod to classical sculpture.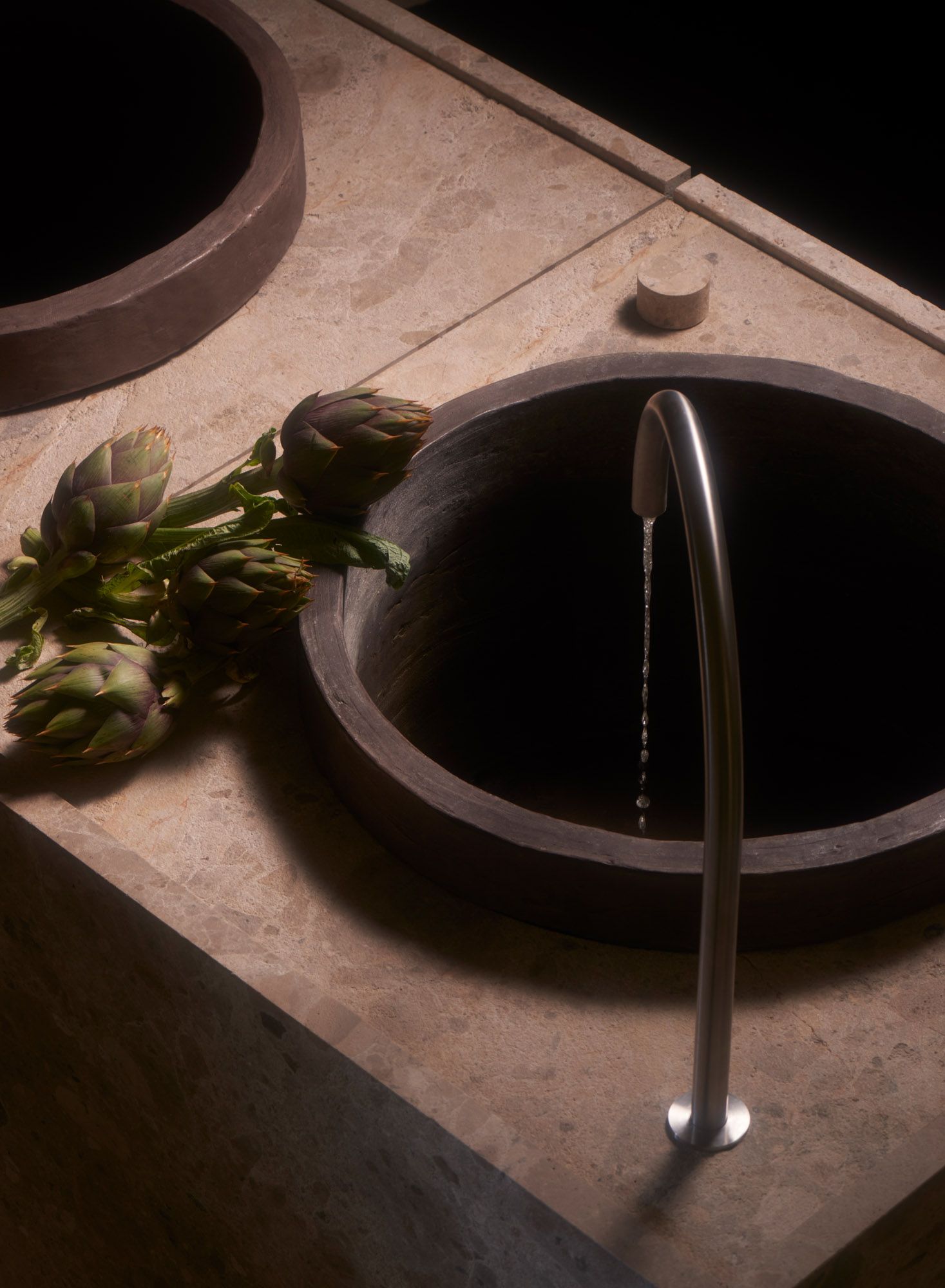 Taking inspiration from ancient Roman civilisations, the monolithic kitchens by Henrytimi are carved from Greige Pompeii marble and travertine. The 'Thermopolium' is beautifully offset by a series of round terracotta basins set into the worktop, echoing earthenware bowls found at Pompeii, while the 'Colonna' interpret the ridges of classical columns with contemporary rigour.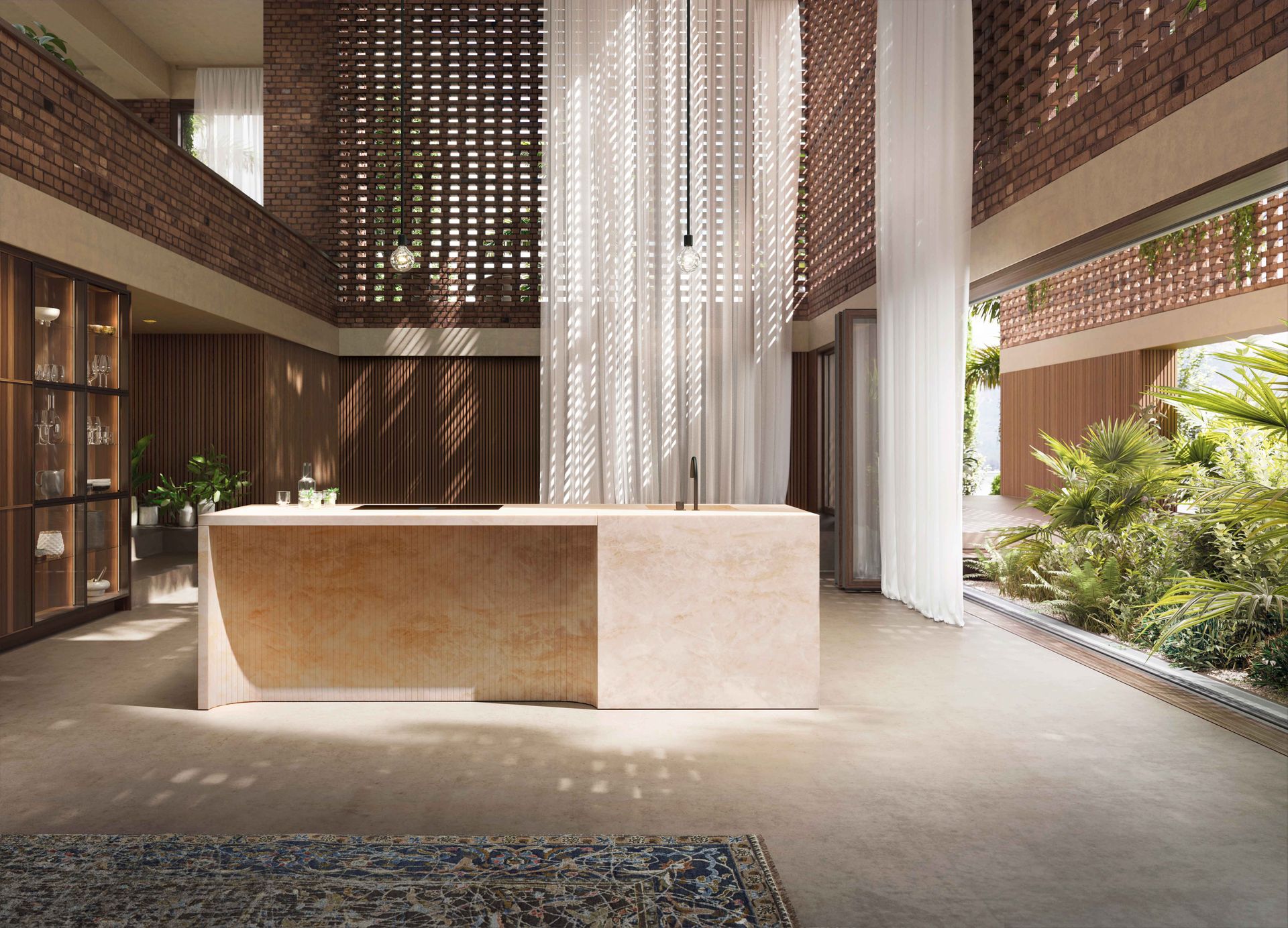 A similar approach can be found in Poggenpohl's Delicious Welcome kitchen. The German manufacturer's recent offering focuses its efforts on mixing functionality with an emotional approach to forms and materials. A kitchen island made of Brazilian quartzite features an ample asymmetrical ridged curve that helps enlighten the monolithic object. The kitchen is completed by dark smoked oak cabinets, that help give the structure a warm atmosphere.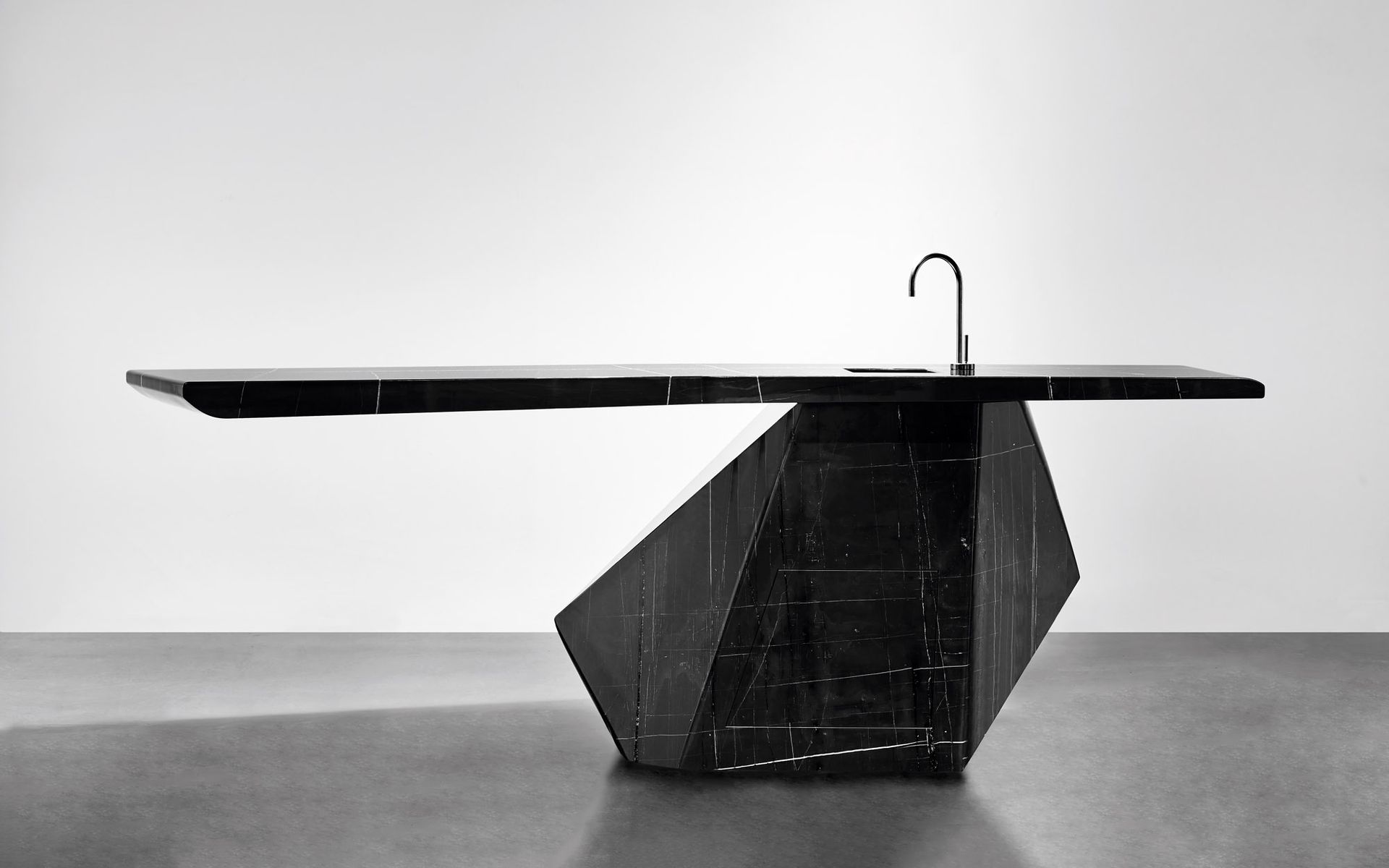 Eggersmann offers a different take on the concept: Canadian studio Yabu Pushelberg's first kitchen for the innovative German brand marries organic form with Japanese design sensibilities (nami meaning 'wave' in Japanese). The modular kitchen, which consists of a graphically sculptural island and a cabinet system with discreet sliding doors, is conceived as the perfect gathering place, allowing for the seamless transition from food preparation space to bar-like drinking spot. 'We aimed to create a kitchen that didn't dictate space, but also didn't disappear,' says George Yabu. 
Colour meets modularity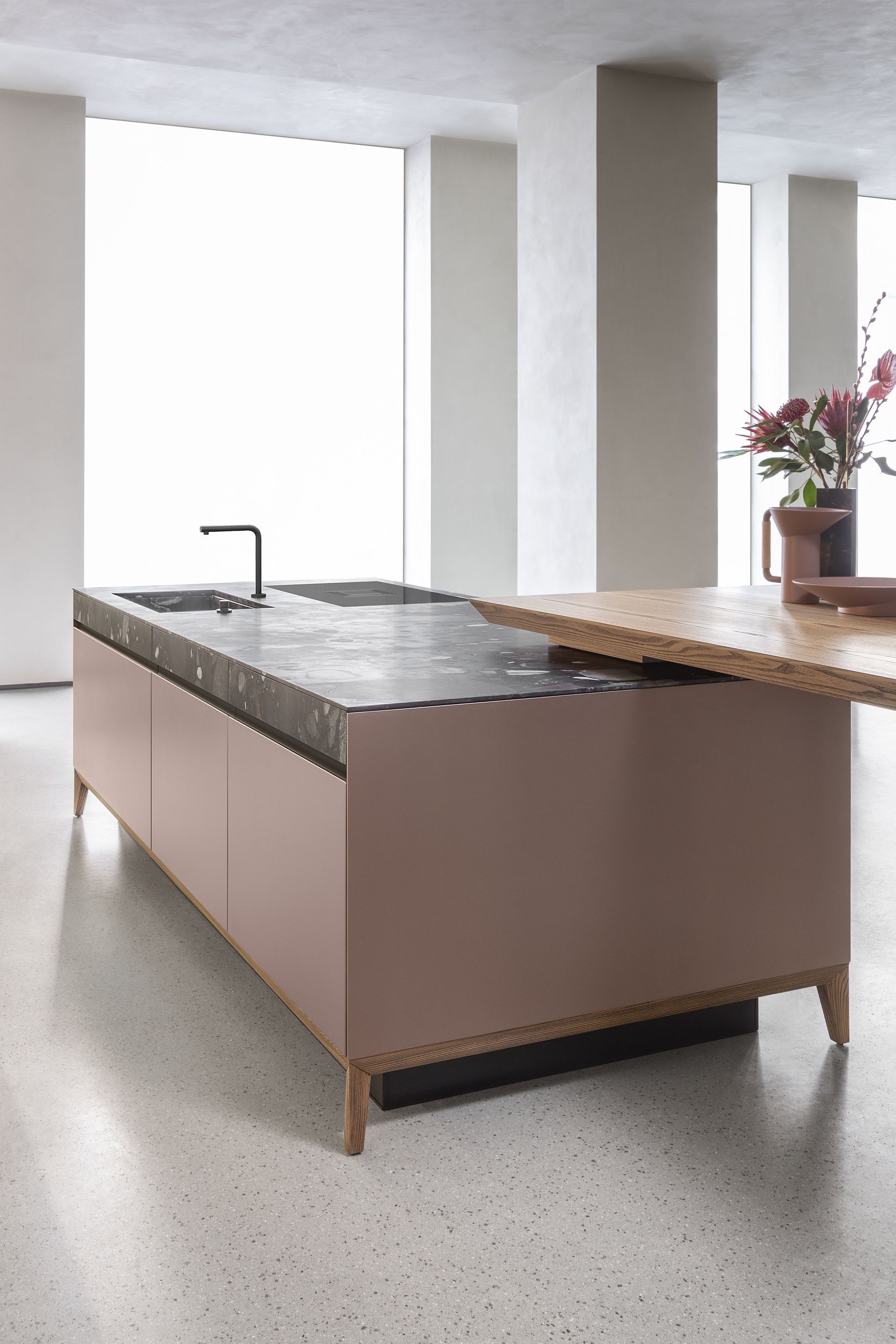 A combination that can be as playful as it can appear sophisticated and everything in between. An update to a 2018 design by Marc Sadler, the 'Sei' kitchen by Euromobil, is a good place to start. The new version adds modularity to the original concept, with new elements that seamlessly complete the collection. These include an expanded range of colours and finishes, such as matte embossed lacquer, anodised lacquer, sandblasted chestnut wood and the exclusive natural quartzite Palladium Arte matte finish, as well as an update of the existing Fenix finishes, with 25 new colours added to the catalogue (making the chromatic offer more than 50 stong). 
Hi-tech wine cabinets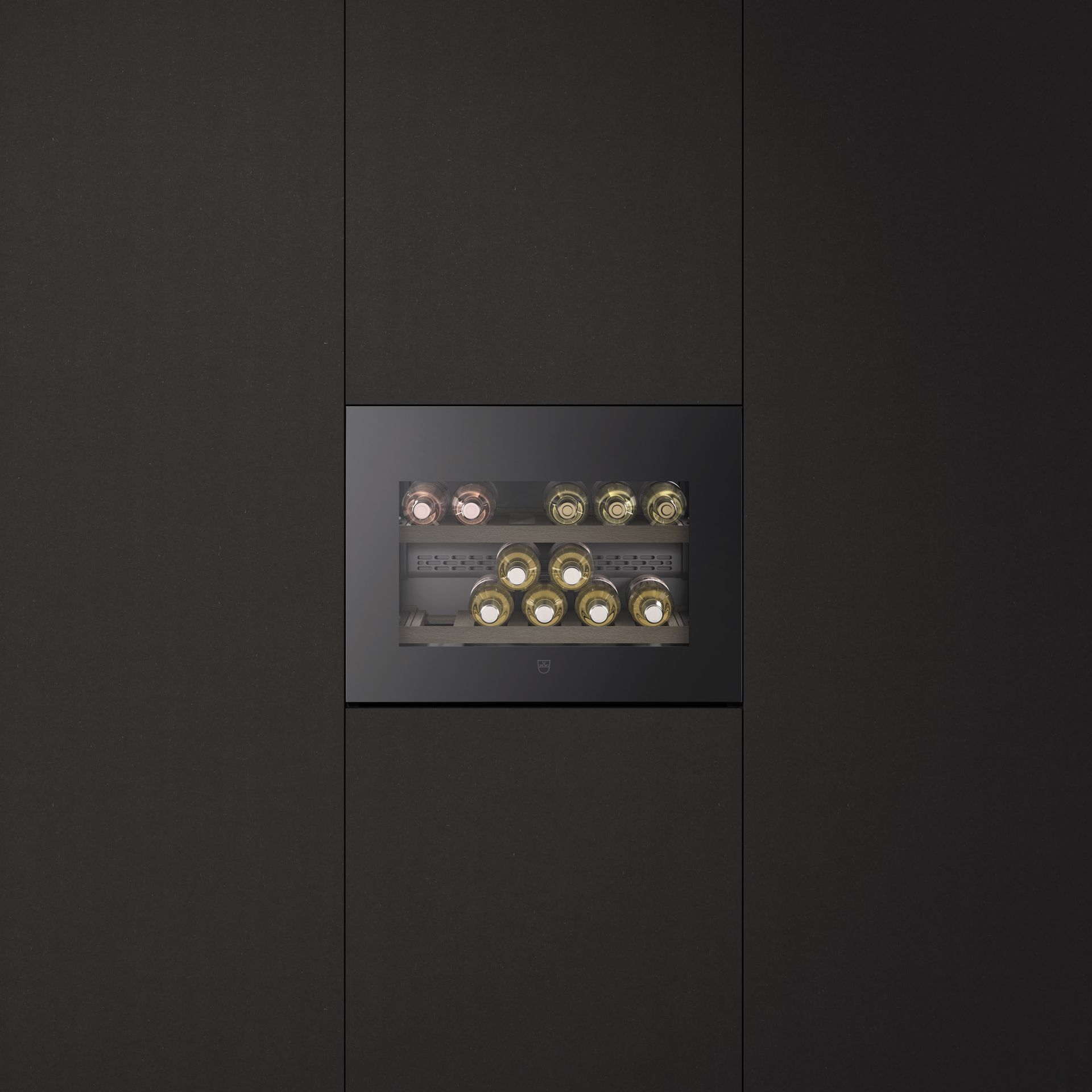 Today's dream kitchen must have a wine cabinet. The V4000 45, from Swiss appliance brand V-Zug, is an elegant compact cooler, featuring a mirror glass front in a choice of three finishes and handle-free doors. It is packed with functional details, from the anti-condensation door and 17-bottle capacity to the dimmable LED and digital display to keep track of temperature. The shelves, made from Swiss beech, can be pulled out or tilted at a 30 degree angle to offer a better view of the bottles inside.